Buy one for yourself and another as a present for a friend.
See Table of Contents below.
Note: If you prefer to do business the old school way, you can mail a check and Kira will mail a signed copy of the book to you. Available for USA shipping only.
Send check for $17.95 to Kira Reginato, PO Box 543, Sebastopol CA 95473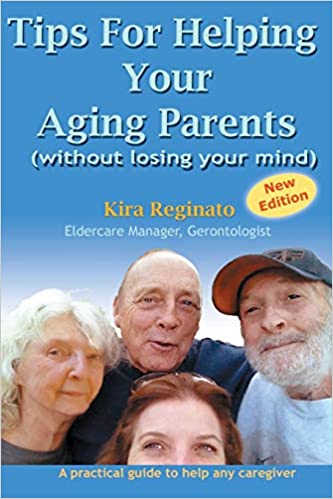 Table of Contents
INTRODUCTION
You Can Do This!
CHAPTER 1
Your Future as a Caregiver
CHAPTER 2
Using a Geriatric Care Manager
CHAPTER 3
Keep a Record
CHAPTER 4
Medication Management
CHAPTER 5
Gather Documents
CHAPTER 6
Advance Health Care Directive
CHAPTER 7
Financial Matters
CHAPTER 8
Home Safety
CHAPTER 9
Care for Yourself
CHAPTER 10
Doctor Appointments
CHAPTER 11
Hospital Visit Preparations
CHAPTER 12
Grab and Go Bag
CHAPTER 13
Emergency Room Visits
CHAPTER 14
Hospital Discharge
CHAPTER 15
Home from the Hospital
CHAPTER 16
Refusing Paid Help
CHAPTER 17
Using Paid Help
CHAPTER 18
Driving
CHAPTER 19
Dementia Tips
RESOURCES
---